Tools
and Supplies
This page is just to show you what my saw looks like, and the special made bench I use.

Tools:
All coins are "Hand Cut" with a Jewelers saw. These are not manufactured, or made with a machine in any way.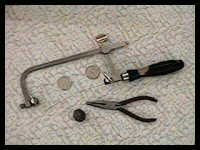 If you look real close, you will see the blade in the picture. There are many sizes of Jewlers Sawblades. I normally use a 3/0, 4/0, or 5/0 blade. The small ball thing you see in the picture is "Bees Wax" to lubricate the sawblade while cutting.

This is the custom made cutting bench I use to cut the coins. The Vise has a "V" shape to hold the coins, and is foot pedal operated. I use a swivel chair to get in and out easily. There is shelves for various tools and drills, as well as places to hang all other supplies I need for making a necklace. It is a very efficient setup.


This is a picture of me cutting coins at my bench.
Supplies:
All coins cut by me include a "free" necklace, or keychain (specify choice).


[Homepage] [Order page ]
---