handcutcoins.net

ABOUT US:
We do Names, Friendship sets, and hundreds of other designs in Genuine US and Foreign currency! We have been in business over three decades, and can create just about any design you like.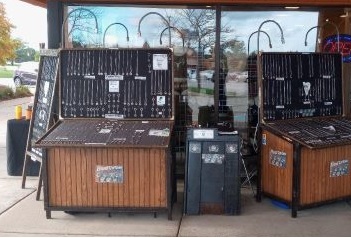 A picture of my display setup at an event
Browse the links to the left. We have many designs on this site. We also do custom orders.
If you have a design idea in mind, ask and I will say if it can be done.
Necklace or keychain included with purchase (specify when ordering)
Due to being "Hand cut" shipping times may vary. Ask and I can give an "approx" how long it will take. Most small orders ship quickly.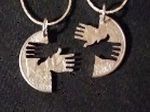 Examples of the artwork
---
TO ORDER: Go to our ordering page . Type the item number (if one was given), or include a brief description if it's a name or other custom design.
Michigan residents must add 6% sales tax
HAND CUT COINS
8051 W. Carpenter Rd.
Flushing, Michigan 48433
810-845-8491 (cell)
This is a home based business. We may have to call you back. Please leave a message.
I appologize for the poor quality pictures on this site. Some pictures were taken many years ago before I had a decent camera. I am working to update the pictures.
Questions, Comments or Concerns?
e-mail and you will get a prompt reply :)
---
Copyright (c) 2022 by: Hand Cut Coins