handcutcoins.net

ABOUT US:
We do Names, Friendship sets, Custom Logos, and hundreds of other designs in Genuine US and Foreign currency! We have been in business over three decades, and can create just about any design you like.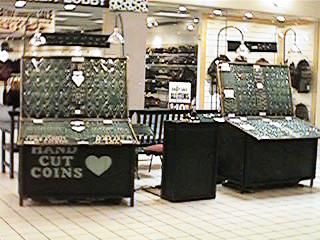 A picture of my display setup at a mall
Browse the links to the left. We have many designs on this site. We also do custom orders.
If you have a design idea in mind, ask and I will say if it can be done.
Necklace or keychain included with purchase (specify when ordering)
Due to being "Hand cut" shipping times may vary. Ask and I can give an "approx" how long it will take. Most small orders ship quickly.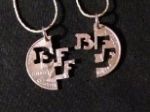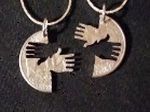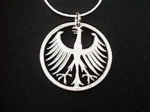 Examples of the artwork
---
TO ORDER: Go to our ordering page . Type the item number (if one was given), or include a brief description if it's a name or other custom design.
Michigan residents must add 6% sales tax
HAND CUT COINS
8051 W. Carpenter Rd.
Flushing, Michigan 48433
810-919-5849 (cell)
This is a home based business. We may have to call you back. Please leave a message.

Questions, Comments or Concerns?
e-mail and you will get a prompt reply :)

---
Copyright (c) 2020 by: Hand Cut Coins