US Sacagawea
Golden Dollars
I can do any design in the Golden Dollars that I can do in the Quarters. In many cases, I can do more. Please check the "Other Pages" in this site for more design ideas.
Note: These are US Minted Sacagawea Golden Dollars. Although there is no real Gold in them,,, they do have a Gold colored finish. The coin itself is mostly copper. I do not have a Gold chain to include. I am mainly charging for the work in the coin cutting. Also, I have a hard time finding these coins today. Shipping may be delayed. If you send me the coin, I will deduct the coin cost. I'm just saying it's quicker if you send me the coin. (address on Homepage)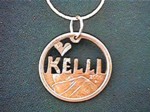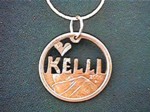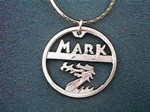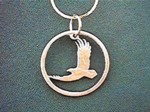 Single Gold Dollars: $12.95 each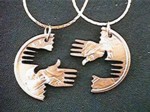 Gold Dollar sets: $13.95
You get both halves
New US Golden Dollar. I can cut anything in these that I cut in the other coins. On the names, I can get up too 8 letters for a single name. If I cut the name along the bottom, I can get up to 10 letters. I can also do "2 names in one". Example: Jim "heart" Tina (Jim loves Tina). 7 letter per name limit on the 2 names design (if the top name is small, I can get more on bottom). For single names, I can put a small design in the corner. Usually a heart, cross, moon. lightning bolt, or star. Please specify preference.
---
To order: Enter the paypal site below, or go to our ordering page for more options. Type the item number (if one was given), and include a brief description if it's a name or other custom design. (Michigan residents include 6% sales tax)
If you seen a design on another page you would like in the "Gold dollar", type in that "order code", and description on the paypal site. Just indicate you want it in gold.
PAYPAL orders to: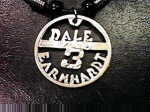 [Homepage] [Order page ]
---