handcutcoins.net

ABOUT US:
We do Names, Friendship sets, Custom Logos, and hundreds of other designs in Genuine US and Foreign currency! We have been in business over three decades, and can create just about any design you like.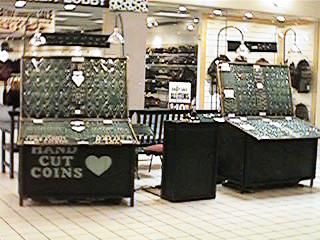 A picture of my display setup at a mall
Browse the links to the left. We have many designs on this site. We also do custom orders.
Shipping is FREE!
Due to being "Hand cut" shipping times may vary. Ask and I can give an "approx" how long it will take. Most small orders ship quickly.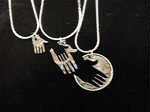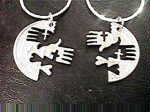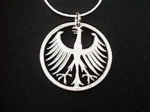 This site is the cheapest place you can get these coins. This is the direct way to me. You may have seen my work on other sites, in stores, and even on my display in malls. The prices here, are the lowest they come!


Examples of the artwork
Note: I started this site decades ago (back when cameras only had 640x480 resolution - Pics weren't too clear either). I haven't really updated the pictures. Some really aren't too good. This year I will be updating pictures as I cut the coins, and adding other designs. Just bear that in mind as you view the site.
---
PAYPAL ACCEPTED
To order: Go to our ordering page for many more options. Type the item number (if one was given), and include a brief description if it's a name or other custom design.

Michigan residents must add 6% sales tax
HAND CUT COINS
8051 W. Carpenter Rd.
Flushing, Michigan 48433
810-919-5849 (cell)
This is a home based business. We may have to call you back. Please leave a message.

Questions, Comments or Concerns?
e-mail and you will get a prompt reply :)

---
Copyright (c) 2017 by: Hand Cut Coins
Images may be used in advertisment or websites for resale of the products